Today I'm thrilled to welcome bestselling novelist and lovely person Lynn Viehl, who will send a signed copy of her forthcoming novel NIGHTBRED to three lucky commenters on this post. Lynn will ship the books to the three winners, wherever you are in the world, so this offer is open to everyone.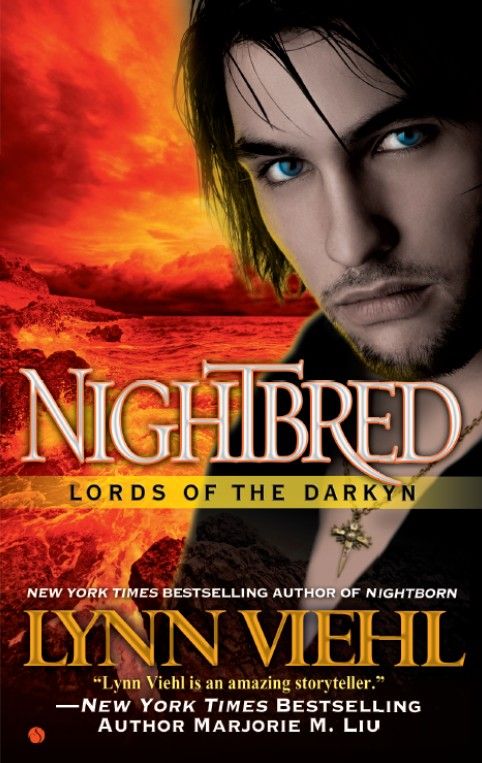 WINTER TRAVELS
I grew up in South Florida, which is like living in a tropical paradise that is regularly invaded by mobs of very pale people who quickly become very sunburned people, hordes of college kids who dislike sobriety and dry T-shirts, and entire busloads of retirees who will buy twenty cases of toilet paper if it's on sale, but haggle viciously over the price of a single avocado (which they then return to the market the next day because it didn't ripen instantly.)
Despite all the snowbirds that regularly descended on my corner of the country I liked living there.  I never had to work on my tan, I could wear flip-flops year-round and spend every holiday, including the ones in winter, at the beach.  My childhood in paradise did nothing, however, to prepare me for visiting less tropical climes.
The first time I had to travel north during the winter was in November for a sales conference being held in Chicago.  Naturally I packed all my long-sleeved T-shirts, workout leggings and the only coat I owned, which was really for rain but had a nice cotton liner in it.  I didn't realize how woefully underdressed I was until I stepped out of the terminal at O'Hare airport and got slapped in the face by wind so cold it numbed my teeth.  I might have frozen over into a block of ice if not for a passing bus that doused me with some sort of wet, ice-cold sludge.
"What is this stuff?" I asked a lady standing next to me.
She pulled back the fur-lined hood of her arctic parka to have a look.  "It's slush."
"You people dump your Slushies on the ground?"  I saw it filling all the gutters.  "What flavor is gray?"
She gave me a funny look.  "You must be from Florida."
The cab that whisked me off to my hotel did not have heat, so I sat and shivered violently for the entire twenty-minute ride.  Once we arrived at the hotel I saw the entire building was encircled by long lengths of rope hooked in place about four feet off the ground.
"What are the ropes for?" I asked my driver through my chattering teeth.
"That's so you don't get blown off your feet by the lake wind," he told me.
I frowned.  We had lakes in Florida and, occasionally, hurricanes, so I thought I understood his meaning.  "Okay."  I paid him and climbed out.
The wind that knocked me back against the cab was gale-force, relentless, and as frigid as if it were coming from a blast-freezer spewing liquid nitrogen into the air.  I had to walk at a forty-five degree angle to make it to the nearest rope, which I hung onto for dear life as I pulled myself hand-over-hand into the hotel.  Which was when I discovered static electricity, how much I apparently attracted it, and how many things in a hotel are made of metal.  By the time I got to the reception desk my fingers were singed and my hair was standing on end.  I was also gasping for air.
"Are you okay, ma'am?" the desk clerk asked.
"The wind," I panted.  "I think it froze my lungs.  Where's the nearest hospital?  I need medical attention."
She gave me a skeptical look.  "You must be from Florida."
I didn't go to the hospital that night.  I went up to my room, turned the heat on high, and defrosted in a tub of hot water.  When I looked in the mirror I was horrified; my lips were chapped, my skin was flaking and my hair looked like it was about to sprout snakes and turn to stone anyone who looked at me.  Luckily the hotel gift shop had Chapstick and Vaseline Intensive Care lotion, as well as a long rack of books.
"Got anything good in paperback?" I asked the shop clerk.
"Ice by  Linda Howard is good," she told me.  "A storm traps this cute couple on a mountain with some drugged-out killers.  Or there's Ice:  Stories of Survival from Polar Exploration.  In that one this guy trying to find the North Pole walks through snow for so long the bottom of his feet come off.   I really liked Storm of the Century by Stephen King, though."
I gulped.  "Does it have ice and killers and feet coming off in it?"
"All the feet stay on, but there's hurricane-force winds, and five feet of snow," she said eagerly.  "See, these people all get stranded in this town by this monster nor'easter, and then this really creepy guy tells them they can give him what he wants and he'll go away, but if they don't, he'll kill everyone.  It was so cool."
"Really."  I tried to smile.  "Can I just get a copy of Reader's Digest, please?"
The next morning my hair was still standing on end.  Fortunately everyone in Chicago had big hair, so I just spritzed it with hair spray, dressed in all the clothes I'd brought with me and headed out for my sales conference.
The wind had actually gotten worse, but I was ready for that.  I didn't know what to make of the piles of white stuff the doorman was shoveling aside from the door.  Some of it fell from the overhead canopy and landed on my head.  It was wet, cold, and white; otherwise it felt just like the Slushie stuff at the airport — and it was everywhere:  on the cars, on the road, clumped on the trees, even dusting the shoulders and hoods of the arctic parkas everyone was wearing.
I wasn't entirely clueless; I'd watched all the holiday specials on TV.  "Is that snow?"
"You must be from Florida," the doorman said.  He stopped shoveling and glanced around.  "This isn't too bad.  "It'll probably melt before the blizzard gets here tomorrow."
"Blizzard?" I echoed weakly.  "What blizzard?"
"Gonna be a bad one," he advised.  "They're forecasting twenty below and eighteen inch drifts, but they always try to make sound better than it is.  They'll probably have to shut down the airport by noon."  He glanced at me.  "You okay, lady?"
I didn't like my job that much, I was already wearing everything I'd packed, and I could always buy new suitcases.  "Could you get me a cab to O'Hare, please?"
Since her debut in 2000 NY Times bestselling author Lynn Viehl has published 47 novels in 8 genres, and is the host of Paperback Writer, a popular publishing industry weblog featuring writing advice, market info and free resources for writers.
Now get those comments coming to win one of three signed copies of NIGHTBRED! 🙂
EDIT: This offer will end at 9am GMT tomorrow, Tuesday 20th November.